IEEE 802.1X Explained: A Plainspeak Guide to Securing Your Network
Introduction to 802.1X
802.1X (The "X" is typically capitalized) is a cornerstone of modern network security and one of the most widely adopted security measures today. Here's why:
Popularity: 802.1X is a popular choice among businesses and organizations looking to secure their network infrastructure. Its widespread adoption is a testament to its effectiveness.
Robust Framework: 802.1X provides a robust framework for user and device authentication on both wired and wireless networks. This ensures that only authenticated users and devices can gain entry to a network.
Controlled Access: The protocol is used to control and restrict access to a network, adding an extra layer of security.
The Gold Standard: IEEE's 802.1X Protocol
The 802.1X protocol, a gold standard in network security, is defined by the Institute of Electrical and Electronics Engineers (IEEE). IEEE is the world's largest technical professional organization dedicated to advancing technology for humanity's benefit. Its standards, including 802.1X, are widely respected and followed, testifying to IEEE's continued contributions to the telecommunications industry.
While discussing 802.1X, it's important to distinguish it from 802.11x, another suite of standards defined by IEEE:
802.1X: This protocol focuses on network access control.
802.11x: This suite covers wireless networking and includes popular Wi-Fi standards like 802.11a, 802.11b, 802.11g, 802.11n, and 802.11ac.
Why 802.1X Stands Out in Network Security
The widespread adoption of 802.1X in businesses and organizations around the world is a testament to its effectiveness. Here's why it stands out:
Versatility: Its use is not limited to a specific type of network or device, making 802.1X a versatile choice for network security.
Robust Security Features: 802.1X provides robust network security by requiring every device to authenticate before gaining network access. This prevents unauthorized users from accessing the network, which is crucial in today's world of increasingly sophisticated and common cyber threats.
Broad Support: 802.1X is supported by a wide range of operating systems and platforms, including Windows, Android, macOS, iOS, and various distributions of Linux. This broad support further enhances its security as it can be implemented across different devices and systems.
The Power of 802.1X Authentication
Why use 802.1X authentication? Here are the key reasons:
Robust Network Security: 802.1X provides robust network security by requiring every device to authenticate before gaining network access. This authentication process is a critical line of defense against unauthorized users and devices.
Prevention of Unauthorized Access: It prevents unauthorized users from accessing the network, which is crucial in today's world of increasingly sophisticated and common cyber threats.
Enabling IEEE 802.1X authentication on your devices adds an extra layer of security. It ensures that only devices with valid credentials can connect to your network. This is particularly important in a world where devices are increasingly interconnected. By understanding and implementing 802.1X authentication, you can significantly enhance the security of your network, regardless of the devices or operating systems you use.
Decoding 802.1X Authentication Methods
802.1X uses Extensible Authentication Protocol (EAP) to handle the exchange of credentials between a device and the network. Here's what you need to know:
802.1X and EAP: While 802.1X is the overall framework, EAP is a component within that framework. EAP defines the conversation between the device (the supplicant) and the authentication server. So, is 802.1X and EAP the same? Not quite. They work together to provide secure network access, but they are not the same thing.
Types of EAP: There are several types of EAP, including EAP-TLS, which uses Transport Layer Security (TLS) to provide a secure communication channel between the supplicant and the server. So, what is EAP and EAP TLS? EAP is the protocol for wireless network authentication, and EAP-TLS is one of its most secure methods, using digital certificates for authentication.
Understanding these different EAP types is crucial for implementing effective 802.1X authentication.
802.1X over Ethernet: LV-Tron's Unique Offering
While 802.1X is commonly associated with Wi-Fi networks, it's equally effective on wired networks. In fact, certain organizations and environments prefer wired networks over Wi-Fi due to security concerns. Organizations want the robust security that 802.1X provides, but on their Ethernet connections. That's where LV-Tron's 802.1X over Ethernet comes in.
By implementing 802.1X over Ethernet, LV-Tron ensures that every device connected to its network via an Ethernet cable is authenticated before gaining access. This not only enhances network security but also gives network administrators greater control over their network.
Here are the key benefits of using 802.1X over Ethernet:
Enhanced Security: Just like with Wi-Fi, 802.1X over Ethernet ensures that only authenticated devices can access the network, providing an additional layer of security.
Greater Control: Network administrators can control which devices have access to the network, enhancing the management and security of the network.
Flexibility: For organizations that prefer wired networks for their reliability and speed, 802.1X over Ethernet provides the flexibility to use the robust 802.1X security protocol on their preferred network type.
Customization: LV-Tron's ability to implement 802.1X over Ethernet demonstrates the versatility of 802.1X and its potential for customization according to an organization's specific needs.
Conclusion
In conclusion, the 802.1X protocol is a powerful tool for network security, and LV-Tron's innovative approach demonstrates the potential of this protocol in providing customized, robust network security solutions. Whether you're a network administrator seeking to enhance your network's security or a tech enthusiast keen on understanding network protocols, we hope this plainspeak guide has provided valuable insights into the world of 802.1X. Stay tuned for more insights into network security and explore LV-Tron's innovative solutions to secure your network effectively."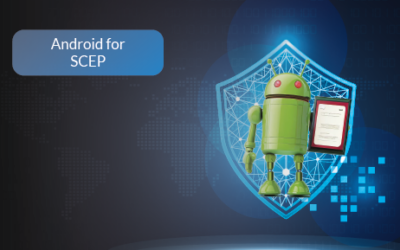 Understanding SCEP: Its Role in Android Security Simple Certificate Enrollment Protocol (SCEP) plays a vital role in digital security. Within Android, SCEP has become an essential tool, simplifying the once complex process of certificate enrollment. This article...
Discover Optimized Solutions for Your Business Advantages. Contact Us Today!