Choosing the Right Industrial PC Power Supply: Embedded, External, or PoE
When it comes to powering industrial PCs, three primary options exist embedded power supplies, external power supplies and Power over Ethernet (PoE). Embedded power supplies are built into the industrial PC chassis while external power supplies require separate components that connect via cable while PoE utilizes one Ethernet cable for data and power transmission. Each option has its own advantages and drawbacks; let's explore how to select the best industial PC power supply for your project.
Form Factor
One major distinction between embedded and external power supplies is their form factor. Embedded power supplies typically take up less space, making them ideal for applications with limited space requirements. On the other hand, external power supplies are larger and can be placed further away from an industrial PC, which may be beneficial when space is not an issue.
Embedded Power Supplies
Embedded power supplies are integrated into the industrial PC chassis, making them a convenient option for applications with limited space. Although typically smaller in size and taking up less room than external units, their small size also limits their output power, so they may not be ideal for larger industrial PCs.
External Power Supplies
External power sources are components externally connected to an industrial computer via cables. They offer more energy output than embedded power supplies and also better protection against radio frequency and electromagnetic interference; however, they take up more space, so may not be suitable for applications with small space needs. Furthermore, external power supplies may be beneficial when different voltage requirements need to be met, such as when selling computers internationally.
Protection Against Interference
Another significant distinction between embedded and external power supplies is their level of protection from electrical interference. Embedded power supplies tend to be better shielded against electromagnetic interference (EMI) and radio frequency interference (RFI) because they're housed within an industrial PC chassis; on the other hand, external power supplies may be more vulnerable to these types of disturbance, potentially impacting performance and reliability.
Interference could cause various issues with industrial PCs for example:
System crashes and corruption of data

Error rates are increasing

Reliability and performance are decreased.

Damage to equipment or malfunction
The Power over Ethernet (PoE) is a practical option in the field of Industrial PC Power Supply
When selecting a power supply for an industrial PC, Power over Ethernet (PoE) is another option to consider. PoE allows both data and power transmission over one Ethernet cable, eliminating the need for separate power sources. This type of solution can simplify installation and minimize cabling requirements by eliminating multiple wires.
Selecting the Appropriate Power Supply
When selecting between embedded and external power supplies for your industrial PC, it's essential to take into account the specific requirements of your application; such as available space, level of protection against interference, and power needs. Selecting a power supply with adequate protection against interference can ensure the reliable and stable operation of your industrial PC. It is also essential to factor in any potential obstacles you may face if selling your product to different countries with varying power voltage requirements. In such cases, an external power supply may be the ideal solution, as it can easily accommodate different voltage requirements and eliminates the need for multiple power sources. This helps simplify inventory management and reduce costs associated with managing various SKUs across different regions.
Industrial PC 

Power Supply Comparison:
Power Supply Type

Advantage

Disadvantage

Suitable Device Size

Power Output Range

Internal Power

Small design, simple installation

Limited power outputlimited protection against interference.




Not suitable for different voltage requirements

Small

 

Embedded Systems

50W-250W

External Power

High power output




More protection against interference




Suitable for different voltage requirements in countries

More expansive, which requires additional space

Larger

 

All-in-One Panel PCs

150W-500W

PoE

Single Ethernet cable to connect power and data




Installation simplified




Reducing the cabling required




No voltage requirement issue

Limited power output

Small to Medium-Sized Embedded Systems /

 

All-in-One Panel PCs

Up to 30W
Conclusion
The right electrical power source for your PC in the industrial sector may be a daunting task, since making a poor choice can result in costly errors and a difficult SKU management. At LV-Tron we are aware of the specific needs of your application in terms of space, protection from interference and power needs. With our expertise and knowledge we'll help you discover the perfect solution that is flexible and meets capacity needs for your future projects. Contact us now to learn more about our products and find the perfect Industrial PC power source!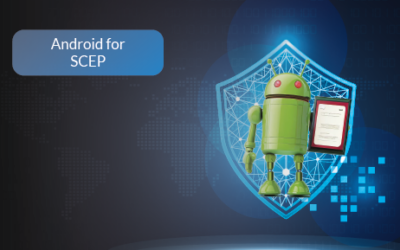 Understanding SCEP: Its Role in Android Security Simple Certificate Enrollment Protocol (SCEP) plays a vital role in digital security. Within Android, SCEP has become an essential tool, simplifying the once complex process of certificate enrollment. This article...