Navigating the Challenges of IoT Projects: How an ODM Service Can Help Your Company Succeed


Navigating the Challenges of Building Industrial PCs for IoT Applications
Building industrial PCs for IoT applications comes with unique challenges such as performance, security, scalability, integration and maintenance. Companies in IoT need to consider all these factors to ensure the success of their solutions. In this article, we will discuss how LV-Tron, with over 20 years of experience in the industry, can help your company navigate these complexities and deliver optimized solutions for your industrial IoT projects.
Critical Considerations for Successful IoT Project Implementation
Performance:
Performance is crucial for IoT projects, choosing the right hardware like chipset is essential for ensuring the success of the project. A chipset is the brain of the device and plays a vital role in determining the overall performance of the device, it needs to handle high workloads and provide fast, responsive performance. Selecting the right chipset can also enable the device to handle future updates and new features.
Robustness: IoT devices are often deployed in harsh environments where they are exposed to extreme temperatures, vibrations, and other environmental factors. It is important to ensure that the device can withstand these conditions and continue to operate reliably. An ODM service provider can design and build industrial PCs that are built to withstand harsh environments, with features such as vibration and shock resistance, and protection against dust and moisture.
Security:One of the biggest challenges of IoT projects is ensuring the security of connected devices and systems. As more devices are connected to IoT network and the internet, the risk of cyber-attacks increases. To ensure the security of your project, it's important to have a hardened IoT solution which implements secure boot, secure firmware updates, and secure communications. Additionally, important security features like 802.1x over Ethernet can be used to provide a secure method of authenticating devices on a network. Hardened firmware can also be implemented to make it more difficult for attackers to exploit vulnerabilities. Secure remote device management can also be used to monitor and control devices remotely.
Integration: ODM service provider can help ensure seamless integration by providing solutions such as device gateways, middleware, and cloud-based platforms. These solutions can help bridge the gap between different devices and systems, making it easier to manage and control your IoT project. Additionally, using a firmware with rich APIs support can speed up the integration process by providing more flexibility and functionality.
Scalability:ODM service providers can design a scalable solution that can be easily expanded to meet the growing needs of your project. This can include designing hardware that can support additional sensors and devices, as well as developing software that can handle increased data traffic and processing.
Maintenance:

An ODM service provider can help simplify maintenance tasks by providing features such as remote firmware update and device status monitoring. These features can help ensure that your Io T system is always up-to-date, secure, and running smoothly.
Conclusion
IoT technologies come with a unique set of challenges that require a high level of expertise and knowledge to navigate. From choosing the right hardware and software to ensuring security, scalability, and easy maintenance, the success of an IoT project depends on a thorough understanding of these challenges. As an ODM service provider with 20+ years of experience in the industry, LV-Tron is well-equipped to define IoT applications and deliver optimized solutions that address these challenges. By partnering with LV-Tron, companies in IoT can rest assured that their IoT solution will be executed successfully and efficiently.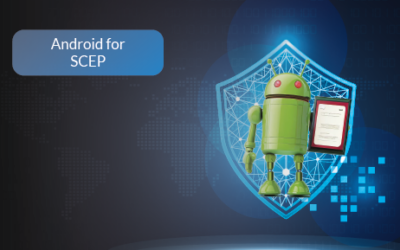 Understanding SCEP: Its Role in Android Security Simple Certificate Enrollment Protocol (SCEP) plays a vital role in digital security. Within Android, SCEP has become an essential tool, simplifying the once complex process of certificate enrollment. This article...
Discover Optimized Solutions for Your Business Advantages. Contact Us Today!