Maximizing Performance and Minimizing Costs: How to Choose CPU Platforms for Industrial PCs
Comparing Popular Platforms: NXP, Rockchip, MediaTek, and Intel for Industrial PCs

Introduction
When it comes to building industrial PCs, choosing the right CPU platform is crucial for balancing performance and cost. LV-Tron, an ODM service provider with 20+ years of experience, specializes in selecting the best platforms for smart meeting, smart building, and smart workplace solutions. In this article, we'll take a look at popular CPU platforms on the market and explain how they can be used to create a cost-effective solution for industrial applications.
Popular CPU Platforms for Industrial PCs: A Comparative Analysis
NXP CPU Platform:
NXP is a robust and reliable choice for industrial PCs and embedded systems, specifically designed to handle a wide range of operating temperatures and harsh environments. It has been stress-tested to ensure that it can withstand heavy use and still deliver reliable performance.
Rockchip CPU Platform
Rockchip is a cost-effective and powerful CPU platform that is well-suited for use in lifestyle automation applications. It offers high performance at a lower cost than many other platforms, and can be easily customized to meet the specific needs of different applications.
MediaTek CPU Platform
MediaTek, is a CPU platform that is well-suited for small form factor devices and applications that require high-performance graphics and touchscreen capabilities. It is widely used in mobile phones and has great performance in handling graphics and touchscreen applications.
INTEL CPU Platform
When it comes to selecting a CPU platform for devices running on Windows OS, Intel's ELKHART LAKE series is a cost-effective and powerful option to consider. Among the many ARM-based chipsets in the market, the ELKHART LAKE series stands out for its high performance and compatibility with Windows OS. Another advantage of ELKHART LAKE series is its support for 64-bit Windows OS, which means it can run most of the Windows applications, providing a familiar and convenient experience for users.
 The Next Step: Leveraging the Advantages of Joint Development Manufacturing (JDM)
At LV-Tron, we are committed to delivering tailored solutions that meet the unique needs of our customers. Our Joint Development Manufacturing (JDM) business model allows for a flexible and collaborative approach to product development, ensuring that your industrial PC is optimized to meet your specific requirements.
Expertise and Customization:
Our team of experts works closely with you to understand your specific needs and requirements, and we provide customized solutions to meet those needs. We also offer our own device management solutions to ensure easy maintenance, APIs for fast integration, and hardened firmware for enhanced security. This approach allows us to deliver optimized solutions that are tailored to the specific needs of our customers.
Long-term Support:
We understand the importance of keeping your device up-to-date with the latest features and security patches. That's why LV-Tron offers long-term support for the latest Android OS updates, ensuring that your device stays current and secure for the lifetime of your project.
Conclusion
Partner with LV-Tron for a successful IoT project. We have the experience, expertise, and resources to help you make the most of the latest CPU technologies and deliver optimized solutions that meet your specific needs. Contact us today to learn more about how we can help you bring your industrial PC project to life.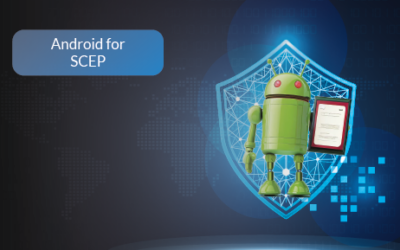 Understanding SCEP: Its Role in Android Security Simple Certificate Enrollment Protocol (SCEP) plays a vital role in digital security. Within Android, SCEP has become an essential tool, simplifying the once complex process of certificate enrollment. This article...
Discover Optimized Solutions for Your Business Advantages. Contact Us Today!