Selecting the Best Smart Signboard for Capturing Maximum Attention
Smart signboards, also known as digital signboards, have revolutionized the way businesses and organizations communicate with their target audience. Unlike traditional static signage, smart signboards offer dynamic and interactive content that can capture the attention of passersby and engage them in a way that was not possible before. Selecting the ideal smart signboard for your needs is critical to the success of any business or project. This guide will help you consider all relevant factors when selecting a right smart signboard for you.
Decide the Purpose of Your Smart Signboard
Prior to making any decisions, it is essential to determine the primary use for your signboard. Will it serve as advertising space, information display, wayfinding aid or some combination thereof? Knowing your main objective will help narrow down which type of smart signboard you require.
Select the Appropriate Size for Your Smart Signboard
Your signboard's size should reflect its intended location and use, making sure that it's easily observable by your desired audience.
Recommended Size for Each Use Case
Selecting the appropriate size for your smart signboard is crucial, as it directly impacts its effectiveness for your intended usage.
| Usage | Venue Size | Display Size |
| --- | --- | --- |
| Advertising | Small (under 250 sq. ft.) | Up to 32 inches |
| | Medium (250-500 sq. ft.) | 32-55 inches |
| | Large (over 500 sq. ft.) | 55-85 inches |
| Information Display | Small (under 250 sq. ft.) | Up to 32 inches |
| | Medium (250-500 sq. ft.) | 32-55 inches |
| | Large (over 500 sq. ft.) | 55-85 inches |
| Wayfinding | Small (under 250 sq. ft.) | Up to 43 inches |
| | Medium (250-500 sq. ft.) | 43-55 inches |
| | Large (over 500 sq. ft.) | 55-65 inches |
Select a High-Quality Display
A high-quality display is essential for clarity and readability. Consider investing in a smart signboard with good resolution, brightness, and contrast levels.
Recommended Specifications for Each Usage
When determining the specifications of your smart signboard's display, it is essential to consider the requirements for each specific use case. The two key factors to consider are resolution and brightness.
Resolution: Resolution refers to the number of pixels that make up the display, which impacts the clarity and sharpness of the image. Higher resolutions offer more detail and sharper visuals.
Brightness: Brightness, measured in nits, determines the display's visibility in various lighting conditions. Higher brightness levels ensure better visibility, especially in well-lit or outdoor environments.
| Usage | Recommended Resolution | Recommended Brightness Range |
| --- | --- | --- |
| Advertising | 4K (3840 x 2160) | 500-700 nits |
| Information Display | Full HD (1920 x 1080) or 4K (3840 x 2160) | 350-500 nits |
| Wayfinding | Full HD (1920 x 1080) | 400-600 nits |
Consider Connectivity Options
For a comprehensive smart signboard experience, it's essential that your device is able to connect to both the internet and other devices like smartphones and computers. This enables you to remotely update its content, monitor its health status, and configure or update its software without the need for on-site maintenance. We will cover remote management tools in a later section of this guide.
| Connectivity Option | Advantages | Disadvantages |
| --- | --- | --- |
| Ethernet | Reliable and fast | Requires physical cabling |
| Wi-Fi | Convenient and wireless | May suffer from signal interference |
| Power over Ethernet (PoE) | Simplifies installation | May limit placement options |
Make Sure the Smart Signboard Is Compatible with Software and Hardware
Select a smart signboard that is compatible with the software and hardware you plan to use for content creation and management. ARM-based signboards tend to be more cost-effective compared to Windows-based options.
Feature
ARM-based Signboards
Windows-based Signboards
Cost
More cost-effective

🏆

Higher cost
Performance
Optimised for specific tasks

🏆

Versatile, supports more applications

🏆

Power Consumption
Lower power consumption

🏆

Higher power consumption
Operating System Compatibility
Limited compatibility
Broad compatibility with various software

🏆

Maintenance
Generally lower maintenance

🏆

May require more maintenance
It's crucial to weigh the pros and cons of both types of signboards based on your specific requirements for content creation and management.
Opt for a Durable, Industrial-Grade Digital Signboard
Durability is a crucial factor when selecting a smart signboard. It's important to consider whether an industrial-grade or consumer-grade signboard best suits your needs.
Feature
Industrial-grade Signboards
Consumer-grade Signboards
Weather Resistance
Designed for harsh conditions

🏆

Limited resistance
Vandalism Resistance
Stronger and more secure

🏆

Less secure and durable
Lifespan
Longer lifespan

🏆

Shorter lifespan
Built-in Battery
No built-in battery
May have built-in battery
Battery-related Issues
Less likely

🏆

More likely
Cost
Higher initial cost
Lower initial cost

🏆

Maintenance and Repairs
Designed for low maintenance

🏆

May require more maintenance
Choosing Between All-in-One Signboards and Displays with Embedded Systems
When selecting a smart signboard, another factor to consider is whether to choose an all-in-one signboard or a display with a separate embedded system.
Feature
All-in-One Signboard
Display with Embedded System
Integration
Integrated components
Separate components
Installation
Simplified installation

🏆

More complex installation
Maintenance
Easier maintenance

🏆

May require more maintenance
Customisation
Limited customisation
Greater customisation

🏆

Hardware Upgrades
Limited upgradability
Easier hardware upgrades

🏆

Cost
Potentially higher cost
Cost varies by components
Space Requirements
Compact and space-saving

🏆

May require more space
Single Point of Failure (SPOF)
Higher risk of SPOF
Lower risk of SPOF

🏆
Evaluate the specific requirements and potential limitations for your smart signboard when deciding between an all-in-one signboard or a display with a separate embedded system.
Additional Features to Boost Customisation and Efficiency
LV-Tron is a top Industrial PC (IPC) Original Design Manufacturer (ODM) that specializes in providing customized solutions for smart signboard systems. The company offers a range of project-winning features that enhance customization options and streamline the process of scaling up your business. These advanced features provide a one-stop solution, making it easy to manage your smart signboard systems.
Device Management Tools (MDM)
Centralised device management with MDM tools
Remote monitoring for quick issue troubleshooting and reduced downtime
Automatic firmware and software updates for the latest security patches and features
See how the LV-MDM provides powerful tools for device management to

reduce maintenance costs
802.1X over Ethernet for authorised user access
Support for SCEP for easy certificate management and deployment
Automatic updates with the latest security patches for up-to-date protection against security threats
See how the hardened LV-Tron firmware provides

advanced

security. 
Powerful APIs
Easy integration with software for reduced time and costs
Direct hardware control for greater flexibility and customisation options
Powerful APIs for easier debugging and issue identification
See how the LV-Tron's API provides fast and easy software integration
These additional features provide an even greater level of customisation and efficiency, ensuring that your smart signboard system is optimised for your specific needs and requirements.
Consult LV-Tron to Find the Best Smart Signboard Solution
Selecting the ideal smart signboard for your business requires taking into account various factors, including its purpose, size, display, connectivity, compatibility, durability, and maintenance. With this comprehensive guide, you can make an informed decision that meets your specific requirements and ensures success for your project or business venture. For further inquiries and consultation, you can contact us at sales@lv-tron.com.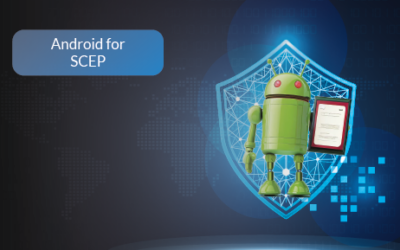 Understanding SCEP: Its Role in Android Security Simple Certificate Enrollment Protocol (SCEP) plays a vital role in digital security. Within Android, SCEP has become an essential tool, simplifying the once complex process of certificate enrollment. This article...